Come & experience world-class cycling paths along the 4 Rivers!
Latest Update: May2023 - This trip is now a fully-supported cycling tour that comes with a Safety-Support Vehicle (SSV), daily luggage transfers, All-meals inclusive & guided with bike mechanic.
> Trip photo album: https://www.facebook.com/media/set/?set=a.649496087186905&type=3
Seoul to Busan - 4 Rivers Bike Paths
SCT Cycling Tour to Korea's 4 Rivers Cross-Country Challenge (or 4 Rivers Bike Path or Trail) is the most famous cycle route that stretched from Incheon down to the beautiful coastal city of Busan, a world-class cycle lane dedicated to only cyclist and pedestrians with the most breathtaking view of mountains, rivers, farmlands and many beautiful weirs, bridges and parks.
This cycling route is voted as one of the best bike paths in the world with a dedicated cycling path made just for bikes! Ranging from easy to challenging trails, this 4-Rivers Bike Path runs from the north-west corner of South Korea to the south-east corner spanning more than 600 km.
Our cycling tour from Seoul to Busan follows these connected cycling paths known as the Ara, Hangang, SaeJae, and Nakdonggang bike pathways, tracing the country's 4 major rivers: Han, Nakdong, Geum & Yeongsan Rivers, with additional routes along the coasts.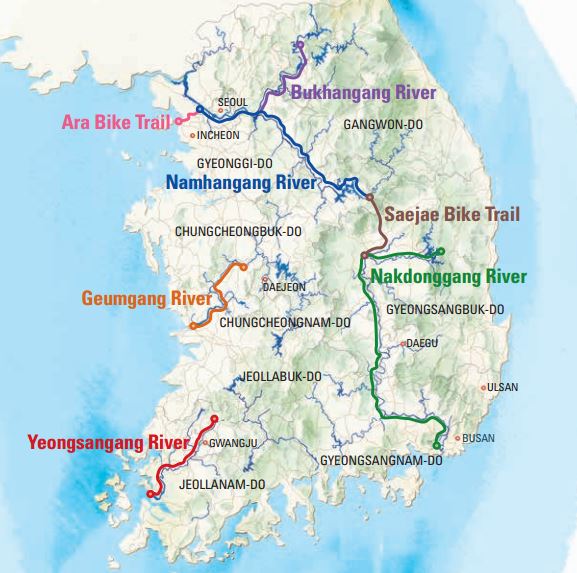 Optional Extension: Jeju Cycling Festival - Round-the-Island (Fantasy Bike Path)
Optional: Extension cycling tour to Jeju island, where you will circumnavigate approximately 234km on its Circular Bike Path / Fantasy Bike Path, with the ocean always next to you! The entire route is made up of 10 courses that wind their way along the coast and past all the island's lovely beaches & cafes.
We will make a stop at each course, for the stamp station, so you can collect all 10 of it & be eligible for an official certificate of completion issued at the Jeju Provincial Tourist Information Center at the airport or at Jeju Port.
Come & Join us to experience Jeju by bicycle to feel the wind & hear the sound of the waves!