This is one of the best-kept secrets of rural cycling that southwest China has to offer. Our GuiZhou to GuangXi GuiLin bike tour starts from the scenic Miao village of XiJiang, about 2.5hr drive from the capital city of GuiYang. The bike tour brings you close to several ethnic minorities such Miao, Zhuang, Dong & Yao people.
You ride on lesser traffic back-country roads, alongside rivers & streams lined with bamboo, meandering pass countless magnificent terraced rice fields along the way. As we have planned our accommodation in clean & comfortable local guesthouses whenever possible. You stay within XiJiang Miao village, rustic ZhaoXing Dong village & ChengYangQiao scenic area. Our carefully designed bike tours allow you to explore this off-the-beaten-track journey across GuiZhou to appreciate their culture, colourful traditional costumes & unique architecture.
Definitely one of the best cycling tours in China!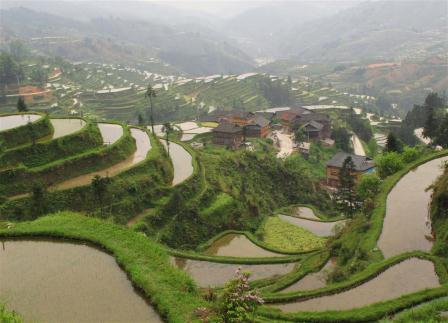 At-A-Glance:
No. of Days: 08-10 (option for extension to GuiLin/YangShuo; private groups/clubs customisation)
Physical Grading: 3-4/5 (moderate-strenuous) – fully-supported
Altitude: 2200m to 170m
Terrain: 85% tarmac, with some sections at 6-8 degree inclination (note: actual road conditions may be subjected to changes due to road works)
Other highlights: XiJiang Miao village; LeiGong Mountain, GuiZhou rice-terraces, ZhaoXing Dong village, ChengYang Wind & Rain Bridge (optional extension in GuiLin YangShuo)
Season: Apr- Oct (recommended)