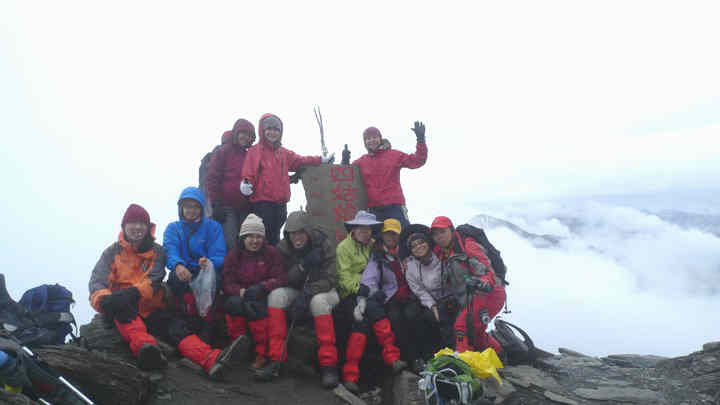 Mount SiGuNiang, also known as the Four Sisters Mountains, are said to be the goddess of the mountains. The highest peak in this area is Peak 4 (YaoMei) which is 6,250m high.SiGuNiang is located in SiChuan, XiaoJin county, RiLong town, approximately 240km away from Chengdu.Peak 1 5025m (DaFeng) is considered the easiest among the four and is considered a pure trekking trek. Peak 2 5276m (ErFeng) is more challenging as it involves basic climbing equipment. We also organise guided treks to ChangPing valley and traverse trek out to BiPeng valley, as well as SiChuan LongYan (Dragon Eye), an-off-the-beaten trekking trail that goes through a series of beautiful waterfalls
We are a professional local operator for Mount SiGuNiang climbing trips. Along with our own trip leader from ChengDu, local guide, we also bring with us many years of experience operating in these areas.
Climbing DaFeng or ErFeng (1st or 2nd peak) 5038m or 5276m, recommended 8days
Climbing DaFeng + ErFeng (1st + 2nd peak), recommended 10days
Climbing SanFeng (3rd peak) 5355m, recommended 9days
or simply a hike along ChangPing & HaiZi valley
For SiGuNiang climbing expeditions, we include the official climbing permits, and operate the climb with proper outdoor & travel license China, not just simply passing you to the local contacts/guides at RiLong. This is our key differentiator. We include end-to-end service from the moment you arrive ChengDu, a fully-guidedd & supported package , including a mobile kitchen with our own equipment to cook meals for our climbers.
We run on average between 4-6 fully-guided SiGuNiang trips yearly.
» read more details of climb on our facebook page notes
our climbers on our latest successful summit on SiGuNiang DaFeng 5038m.